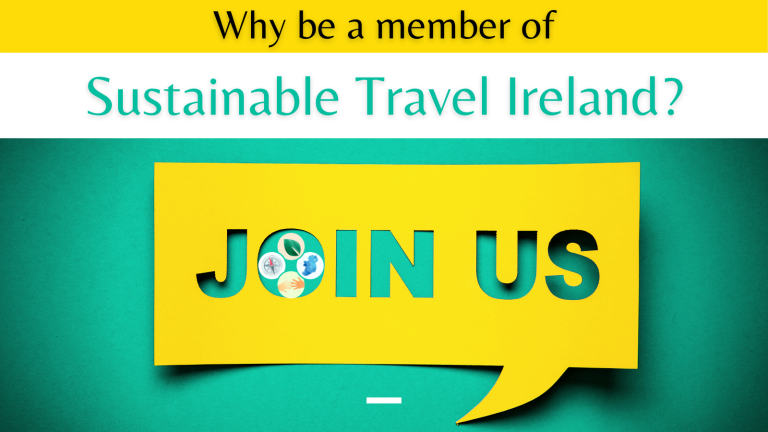 We have compiled a list of benefits that come with becoming a member of Sustainable Travel Ireland. We hope that by the end of it you will be hopping on the train-fuelled by renewable energy of course – straight to sustainability!
1. Listing On Our Website
When you have signed up, you will have the honour of joining our other marvellous members on our website's members list. Though you will be an unlabelled and uncertified member, it shows that you are engaging with Sustainable Travel Ireland to improve sustainability. 
2. Free Access To Two Active Learning Courses 
To guide you along the path to achieving the goal of sustainability, we offer online courses that will turn on a few LED light bulbs in that magnificent brain of yours. They will help you gain awareness on all aspects of sustainability and acquire skills needed to progress on your journey. On top of this, you will have FREE access to our two introductory courses:
3. Discounted Rates For Carbon Offsetting
Members of Sustainable Travel Ireland avail of discounts on our group Carbon Offsetting scheme which includes projects in hydropower, the supply of clean drinking water and forest protection in various locations around the world. In being sustainable, we're making the world a better place. Besides, with Ireland's goal of becoming carbon-neutral by 2050, it may soon become a requirement for businesses to offset their carbon. Become a member with us and you'll enjoy a few offsetting bargains through bulk buying.
4. Discounted Tickets To Our Annual Conference
Members avail of a 20% discount for our annual conference. Last year's conference proved to be highly successful through the many inspiring speakers that participated, like Anna Pollock from Conscious Travel, comedian Colm O'Regan, and environmental scientist Dr. Cara Augustenborg. This year's will be online and should not be missed!
5. Invitations To Free Webinars And Discounted Tickets For Our Paid Series Of Webinars
Members of Sustainable Travel Ireland also avail of a 20% discount to paid webinars and have exclusive access to members-only free webinars.
6. Access To Purchasing More Member-Only Online Training
By being a member with us, you will have an abundance of invaluable courses at your disposal. Here you will upskill yourself in sustainability which will help you relay your message onto your staff and customers, thus being more sustainable. Topics range from building a procurement policy to conservation and energy management. Prices start from a modest €35 + vat.
7. Advance To Intermediate Level
You will have the ability to progress to Intermediate Member and gain a label for your website and marketing material to demonstrate your commitment to sustainability. Not only is this a fantastic marketing opportunity, but it will give you a competitive edge over other tourism and travel businesses. Nowadays, many tourists want more sustainable travel options – 87% in fact.
8. Become A Certified Member To Bronze, Silver And Gold Level
You will have the option to progress to Certified Member to bronze, silver and gold level as per the relevant criteria. This will require an independent audit. All auditing by Sustainable Travel Ireland is done by independent auditors to make sure your selection is done in the most unbiased and honest way. Sure isn't it true? Honesty is the best policy and transparency is a huge part of sustainability.
9. Relevant Global Sustainable Tourism Council-Approved Criteria To Use To Work Towards Certification
Sustainable Travel Ireland is the only Irish company offering these internationally renowned GSTC-recognised criteria. The GSTC is a UN-mandated organisation, so you can be confident that the route you are following to sustainability has been carefully considered and refined to meet the highest standards.
When you become a member of Sustainable Travel Ireland, you're not just signing up for anything, you're becoming a member of a positive movement. A change for the better. And you will be in the company of those who are like-minded and with a similar goal – to achieve sustainability! So join our community and sign up now! There is no better time than the present.