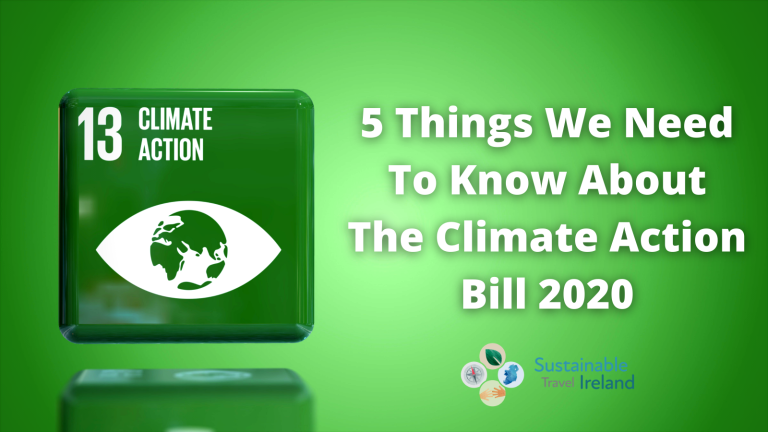 A milestone has been reached as the Irish Government puts Climate Action to the forefront of their plans, by aligning Ireland's climate action targets with EU targets and enshrining them into law. This means that if these targets are not reached, punitive measures will be implemented. So we better get cracking on actively bringing those emissions down! Science and expertise, the people who actually know their stuff, will now hold a stronger authority in the area of climate action. The following is a list of things that we need to know about the recent Climate Action and Low Carbon Development (Amendment) Bill 2020.
1. Carbon Neutral
The Government's objective is that we become a carbon neutral economy by 2050. A carbon neutral economy is one where greenhouse gas emissions are met or exceeded by their removal through offsetting schemes, carbon-capture technology or carbon sinks like bogs and forestry. It is aimed that by 2030 Ireland's carbon emissions will have reduced by 51%, so it's time to put plans in place to reduce your carbon too!
2. From 3% to 7%
To achieve carbon neutrality, we will have to reduce greenhouse gas emissions by 7% each year. This has increased from the 3% that was suggested in the 2019 Bill. There will be annual revisions to this Bill where necessary. So we can prepare ourselves to see this 7% increase or possibly decrease, depending on our progress.
3. Cutting Carbon
From 2021, and for the first time, carbon budgets will be set on a five-year basis in order to achieve decarbonisation. With each carbon budget, carbon caps will be implemented on the level of emissions permitted in that period. The Bill aims to reduce carbon emissions by 80% (of 1990 levels) by 2050 in the electricity, building and transport sectors. A carbon tax rate of at least €80 per tonne is to be implemented by 2030 which may also change on an annual basis, depending on the country's progress. The better we do, the less tax we'll have to pay, but that is easier said than done.
4. Fossil Fuel-Free Transport
It is time to look toward energy efficient vehicles. This Bill projects to have almost 1 million electric vehicles (EV) on our roads by 2030. It aims for 840,000 passenger EVs and 95,000 electric vans and trucks to be circulating by then. From 2030, it will not be possible to register a new car that runs on fossil fuel. The granting of NCT's to fossil fuel cars will have stopped by 2045. This will help us to achieve the projected decrease from the sector of 38% in emissions by 2030. 
5. Renewable Energy
Currently, 13% of Irish energy is renewable. This Bill aims to push that to 70%. They aim to install 600,000 heat pumps and retrofit 500,000 homes for improved energy efficiency to deliver a projected 34% reduction in energy emissions by 2030. This would mean a 36% reduction in commercial and public services emissions.
So what should we take from this Bill?
We need to offset our carbon. This can be through investing in social or environmental causes. Check out our carbon offset scheme for more information.
We need to look toward implementing renewable energy into our businesses. Be sure to keep an eye on our energy course that is launching soon.
We need to look at beginning the process of removing company vehicles that have high usage of fossil fuels. 
Now is the time to act. This Climate Action and Low Carbon Development (Amendment) Bill is a step in the right direction. Learn more on how you can adapt your business to this Bill and become a more sustainable tourism business by becoming a member with Sustainable Travel Ireland today.