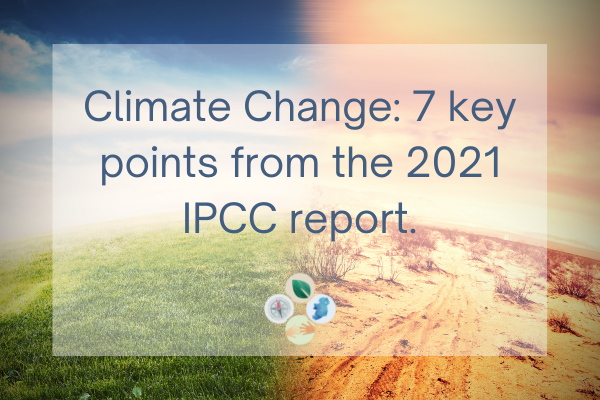 Last week the Intergovernmental Panel on Climate Change (IPCC) released its latest report 'Climate Change 2021'. The report has warned us climate change is speeding up and nearing a tipping point with environmental effects soon becoming irreversible.
Here are 7 things we learned from the report –
1. Climate change is widespread, rapid, and intensifying – and it's down to us to make a change. With further global warming, every region is projected to increasingly experience multiple changes in climatic impact-drivers. Changes in many of these climatic impact-drivers would be more widespread at 2°C compared to 1.5°C  and even more widespread for higher warming levels.
2. The changes we are witnessing are unmatched with recent history and will affect every region across the globe. Nowhere and no person is protected.
3. Global warming of 1.5°C and 2°C will be exceeded during the 21st century unless large reductions in CO2 and other greenhouse gas emissions occur in the coming decades.
4. Global surface temperature has increased faster since 1970 than in any other 50-year period over at least the last 2,000 years.
5. As global warming increases so will the changes to our climate system. This includes increases in the frequency and intensity of extremely hot periods, marine heatwaves, heavy precipitation, agricultural and ecological droughts in some regions, and an increase in intense tropical cyclones, as well as reductions in Arctic Sea ice, snow cover and permafrost.
6. Globally in the last 6 decades, land and ocean carbon sinks have soaked up 56% of CO2 emissions. But as we destroy these carbon sinks and increase carbon levels in the atmosphere, absorption levels for these sinks reduce.
7. We can still act and make a difference!
The message from this report is even clearer than any previous findings. It's make-or-break time and we need to act. In the words of Greta Thunberg, we must "treat the climate crisis like a real crisis."
If we fail to limit emissions and reach net-zero carbon emissions by 2050, then limiting warming to 1.5 degrees C will be highly unlikely.
You can access the full IPCC report here.
If you want to take action in your tourism business, join us as a member of Sustainable Travel Ireland. Our members receive 6 months' free membership, access to over 20 free training courses alongside, access to our group carbon offset scheme and regular webinars. Email us today (info@sustainabletravelireland.ie) for more info or sign up here.