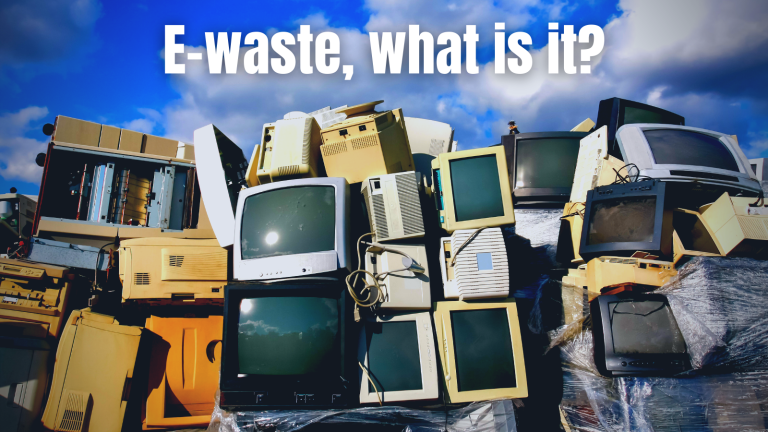 Every year more than 65 million tonnes of electronic waste, also known as e-waste, is generated. That's any unwanted electronic equipment or appliance to you and me by the way! Global e-waste has increased by a whopping 21% in the last five years and shockingly only 15-20% of this waste is being recycled. An even sadder stat is that 90% of e-waste is dumped illegally. Given that most electronic gadgets contain toxic materials, it's not rocket science to figure out that this can be extremely harmful to the environment and human health. So if you have an office appliance that needs to be retired, we hope you'll be fired up to recycle it now. Below you'll find everything you need to know! 
First up, let's think of examples of e-waste that we might find in the workplace.
1. Recyclable E-Waste From The Kitchen:
Fridge

Washing Machine

Dishwasher

Toaster

Cooker

Freezer
2. Recyclable E-Waste From The Office:
Computer monitor

Water Cooler

CRT, LCD & plasma televisions

CFL light bulbs

Fluorescent tubes

Rechargeable & single-use batteries

Electrical tools & toys

Why Should We Recycle E-Waste?
Did you know that four million mobile phones are sold every day? That's 1.5 billion every year. Their average lifetime is two-and-a-half years, so if they are not reused or recycled, you can only imagine the mountain of electronic waste that is generated. 
Computers, screens and small hand devices make up 22% of the 65 million tonnes of annual e-waste. Since 2014, these volumes have grown by approximately 50%.
Electronic waste contains loads of toxic substances which can be harmful for both our health and our environment. So let's just say, it's pretty important to get rid of your electronic gadgets and appliances in a safe and responsible manner. 
Many components of e-waste contain precious recoverable materials and resources. The glass from your computer monitor can be detached to create a new product while the lead, copper, plastic and other materials can be used to make another. The value of raw materials that make up global e-waste equated to €50.8bn in 2019.
How To Recycle Your E-Waste?
Could your electronic waste be donated, sold on, or traded in? If not, choose to recycle it. Be organised. The UN's 12th Sustainable Development Goal (SDG) aims to ensure sustainable consumption and production patterns, so only buy what you will use. Minimise your e-waste. Buy devices and appliances with an Electronic Product Environmental Assessment Tool (EPEAT) certification. 
Various social enterprises and charities, such as Recycle IT, accept donations of electronic waste. WEEE Ireland and The European Recycling Platform (ERP) offer services where you can dispose of and recycle your electronic waste. They have collection days and events where they collect devices that can no longer be used. They also offer their services in certain local amenities and retailer stores.
For regions in Ireland where ERP and WEEE collect and recycle click here. You can also find out more about the recycling processes for each of your appliances and electronic gadgets here and what materials are extracted from each of your items via this link.