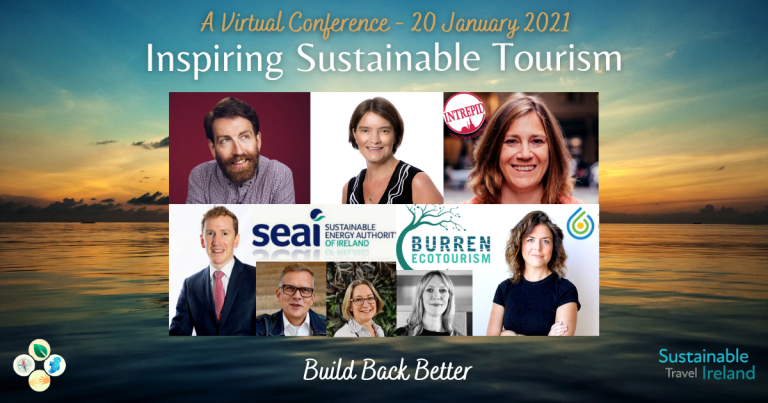 The second Inspiring Sustainable Tourism Conference took place on Wednesday 20 January 2021 and proved just as big a success as the 2019 event. If you missed the event, we've included some highlights below. For those that attended, a full recording is available by emailing info@sustainabletravelireland.ie

Highlights include:
Natalie Kidd

Chief People and Purpose Officer at

Intrepid Travel

, and Director of the Global Sustainable Tourism Council (

GSTC

), explained how Intrepid puts 'purpose' at the heart of its business strategy – because it is the right thing to do. But this purpose has actually driven growth leading to more opportunities to invest in sustainable initiatives such as decarbonising the business, conserving wildlife and ecosystems, and protecting local communities. 
The brilliant Burren Ecotourism Network (

B.E.N

) formed the panel discussion on how to make community tourism work.

Jarlath O'Dwyer

(CEO) opened by discussing the powerful work done by the network of 65 local businesses. This community of businesses all have  the same goal, to help their local area thrive in a sustainable way through following a code of practice. Members

George Quinn

(

Hyland's Burren Hotel

& Chairman of the Board of B.E.N.), Carol Gleeson (Manager of the

Burren & Cliffs of Moher UNESCO Global Geopark

) and Ciara O'Halloran (

Flaggy Shore Oysters

) were also a part of the panel and discussed the benefits of B.E.N from the perspective of their various businesses .
Dearbhla Stapleton

, Programme Manager for Business and Industry at the Sustainable Energy Authority of Ireland (

SEAI

), detailed business and financial supports available through SEAI's

EXEED grant scheme

. She laid out what companies could do to decarbonise and where to start. More information on their financial supports and grants can be found on their

website

.
Another practical, thought-provoking and informative talk was given by

Marcus Treacy

from

The Killarney Park

and The

Ross Hotels

. He included practical tips, advice and achievable changes that any tourism or hospitality businesses can make as well as discussing the launch of

The Killarney Hotels Sustainability Group

. He spoke of the savings achieved by taking the sustainable route, how they save €20,000 annually by changing to LED lighting and €10,000 each year by changing to bulk refillables and cutting out single-use plastics.
Orla Carroll

, Director of Product Development in

Fáilte Ireland

, joined to talk about Failte Ireland's approach to sustainable tourism  in Ireland through the

VICE

(Visitors, Industry, Community and Environment) Model. She also spoke about the efforts to drive positive change through the implementation of their new strategy to help the tourism sector survive, recover and maintain Ireland's "assets, landscapes and heritage for generations to come".
Three workshops wrapped up the day to further inspire and support the attendees on the topic of sustainable tourism; Building Your Sustainability Policy delivered by

Sarah Blake

(

Earthology

);The Advantages Of Sustainable Event Management delivered by

Peter Reelfs

; and How To Integrate Sustainability Into Your Marketing Strategy delivered by

Gill Wilson

.
The Inspiring Sustainable Tourism Conference was a tremendous success with more than 150 attendees from all over the country and further a field. It gave a voice of hope to an industry that has been in recess. A closing comment from Roisín Finlay perfectly described the final mood of the day. "Everybody is sharing their knowledge. It's a game changer. We've reached a turning point."
"The Inspiring Sustainable Tourism Conference is packed with insights from both international and Irish leaders"
"Great conference!"
"Congratulations Team Sustainable Travel Ireland on delivering today's Inspiring Sustainable Tourism Conference. You offered an insightful and inspiring programme of speakers, content and workshops"
"Fantastic day, full of really relative and important information. Can't wait to start our sustainability journey with the Cronin Group. Thank you."