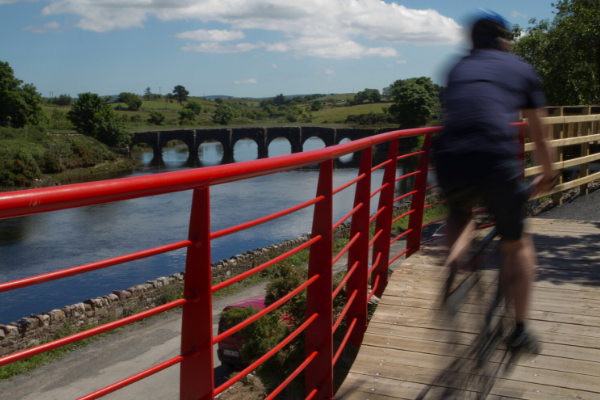 The proposed new Programme for Government promises a sustainable future for travel and tourism in Ireland. Below are some of the key points from an extensive document that appears heavily influenced by its green members.
Cycling and electric cycling have enormous potential to facilitate a high proportion of daily trips if we provide an environment which protects and prioritises this mode of transport.
We will promote cycling and pedestrian safety and enable this through improved design, increased separation and better signage and marking.
Enable a step-change in the number of people taking daily journeys by foot and bicycle, which will help improve the quality of life and air quality.
The total spend on walking and cycling infrastructure includes committed funding from the Department of Transport, Tourism and Sport for active travel, greenways and an agreed pedestrian and cycling allocation from the Bus Connects programme.
Committed to developing an integrated national network of greenways to be used by commuters, leisure cyclists and tourists.
Use a range of policy approaches to incentivise use of electric vehicles (EVs) and encourage a shift away from petrol/diesel vehicles. Legislate to ban the registration of new fossil-fuelled cars and light vehicles from 2030 onwards and phase out diesel and petrol cars from Irish cities from 2030.
Support the European Green Deal, which provides a roadmap for Europe to take advantage of the opportunities presented by moving to a low-carbon future.
Support EU and international action to reduce aviation emissions, in line with the aims of the Paris Agreement and the UN Framework Convention on Climate Change.
Fund the Tourism Ireland Regional Cooperative Marketing Fund, which seeks to encourage new access and maximise the potential of existing air and sea services to those areas outside Dublin.
Examine the development of national tourism trails linking our ferry ports and rail network.
Put social justice at the heart of our commitment to decarbonise.
Committed to an average 7% per annum reduction in overall greenhouse gas emissions from 2021 to 2030 (a 51% reduction over the decade).
The 2050 target will be set in law by the Climate Action Bill, which will be introduced in the Dáil within the first 100 days of government, alongside a newly established Climate Action Council.
Ban the sale of new and the importation of second-hand petrol and diesel cars from 2030.
Deliver at least 70% renewable electricity by 2030.
Support a new Green Flag programme for communities, building on the successful programme in schools.
Give a clear pathway towards better practices and less reliance on fossil fuels across every sector. Publish a schedule of incentives and regulatory changes to allow people and businesses to plan.
Key Sustainable Tourism Points in the Programme for Government

A Wild Atlantic walking route with a view to creating a continuous walking route from Malin Head to Kinsale.
An Irish Sea Way from Carlingford Lough to Cobh, with a view to creating a new tourism trail, the Irish Sea Way, along the east and south-east coast.
Continuing work to develop an integrated national network of greenways.
Working with the Northern Irish Executive to create a coastal tourist trail, linking the Wild Atlantic Way, the Causeway Coastal Route, and the area along our eastern and southern coast.
The Programme for Government must still be approved by the three parties – Fianna Fail, Fianna Gael and the Green Party.