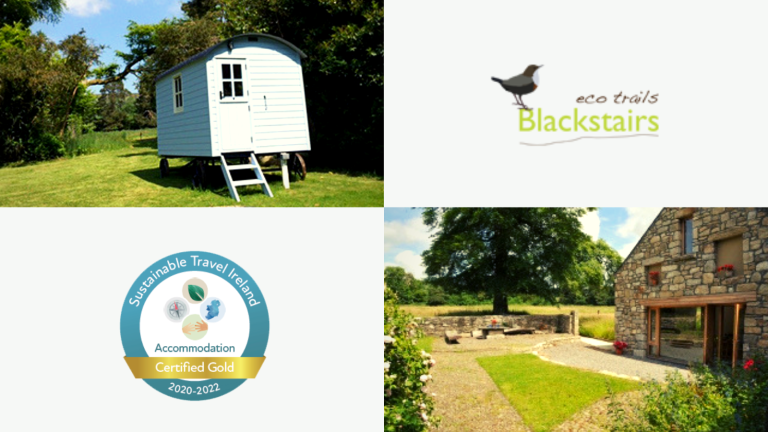 Blackstairs Eco Trails is a guided wildlife walking company in Carlow, which also offers accommodation and meeting space in its shepherd's huts and restored barn. Certified to Gold standard with Sustainable Travel Ireland, Blackstairs is a leader when it comes to sustainability practices. Aoibheann Boyle catches up with the Blackstairs team to learn more about their vision, their inspirational sustainability practices and their success in creating a small, safe, sustainable space.
"Our aim is to encourage respect and a sense of wonder that working in and with our local environment brings," states Mary White, co-owner of Blackstairs Eco Trails in Co Carlow.
A former Minister for Human Rights, Equality and Integration and Deputy Leader of the Green Party for 10 years, Mary set up Blackstairs Eco Trails with her husband Robert in 2011. With a passion for sustainable practices and recording wildlife and biodiversity changes, from the get-go, both Mary and Robert have been committed to running a sustainable business with a positive impact on both the surrounding environment and local community. 
Proving that sustainability and success can go hand in hand, Blackstairs Eco Trails has been listed as one of the Irish Independent's Fab 50 places to stay and National Geographic named it as one of Ireland's top 5 Food Experiences, 
Nestled in the foothills of the beautiful Blackstairs Mountains in the heart of Ireland's Ancient East, the company offers workshops to small groups in foraging, herb and fungi eco walks and educational school tours. Their restored barn dating from 1831 provides the perfect venue for mindfulness courses, think-ins, workshops, demonstrations, teachers' courses, school visits, painting courses, meetings, private family events and even weddings. Eco accommodation is provided in beautifully restored shepherd's huts surrounded by untouched native woodlands. It is the perfect place for weekend getaways, intimate hen parties and for those looking to immerse themselves in nature while keeping their carbon footprint low.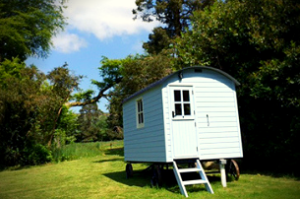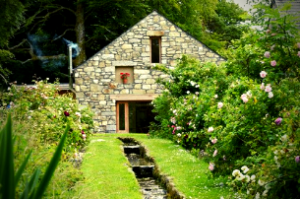 "When people visit us they frequently comment on how the place is different," explains Mary. "It is a calm, quiet and peaceful place." Blackstairs Eco Trails prides itself in being a small, safe, sustainable space. And the kind of sustainable and uncrowded experience that Blackstairs Eco Trails has to offer is becoming increasingly popular with tourists. In fact, Booking.com recently released research showing that 63% of travellers are now looking to avoid overcrowded and busy attractions.
Ecotourism 
But what are the day-to-day sustainability practices that create a haven of calm and an ecotourism business worthy of Gold certification with Sustainable Travel Ireland? 
Mary explains that the business mission statement states that they "are committed to ecotourism principles and having a minimal impact on the environment." They "aim to reduce any environmental impact through efficiencies in energy use and minimisation of waste and water usage".  
"Energy, waste and water are all key elements of our ecotourism policy. Whilst the nature of our business means that we don't need to use a lot of energy or water, we ensure that it's minimal and that our energy is sustainably sourced. We conserve water at every opportunity and recycle or compost the majority of the waste we produce" continues Mary.
The other key areas that Blackstairs Eco Trails focus on are community engagement, biodiversity and wildlife.
Energy management
"We ensure that our energy is sustainably sourced from Panda Power, " explains Mary.  Underfloor heating is geothermal-powered and sourced from the ground, and their Boru Wood Stoves are also energy efficient along with all lightbulbs. The recently restored barn was sustainably insulated by Isover a company that uses 85% recycled glass in the creation of its products.
Minimising Waste
"We recycle or compost the majority of our waste produced," states Mary, adding that vegetables and fruit are organically grown on their land which significantly reduces packaging waste. Anything that can't be grown is bought with minimal packaging and is organic. The little food waste that is produced is then composted and recycled to be used to enrich their soil. This is a powerful example of the circular economy. What has been taken from the land is returned to help it thrive. Waste paper, cardboard, tin cans, aluminum cans, plastic, glass, electrical waste and clothes are all recycled and clearly labelled recycling bins are provided for guests to dispose of their waste. This recycling waste is brought to local recycling facilities which cuts down on transport emissions.
Reducing Water Usage 
As for water, Mary explains that Blackstairs Eco Trails "conserves water at every opportunity". A rainwater harvesting system on the barn recycles rainwater that is then used as part of their irrigation system. This reduces the need for water to be pumped from reservoirs which reduces energy consumption and costs. What's more, Blackstairs Eco Trails also has its own well which is regularly monitored to ensure the purest quality of spring water for guests. Any grey water is recycled and all toilets have dual flush facilities.
Working With The Community 
Community engagement is also close to their hearts. Mary states, "Our commitment is to the local area and working closely with our community." With Mary being certified by the Department of Education, Science and Skills, education and working with the community are both at the heart of the work of Blackstairs Eco Trails. Both Robert and Mary regularly speak at public events such as Heritage Week, food festivals and other local festivals in Carlow, Kilkenny and Wexford. They are members of Rathanna Community Group where they give essential advice on sustainable planting and ecotourism practices. They are also members of the Graiguenamanagh Outdoor Tourism Group. Here they collaborate with operators in the Barrow Valley and inspire others to take the sustainable route they have taken. Supporting locals is of great importance to Blackstairs, so where they can they support local artists and food.
In Harmony With Nature: Biodiversity And Wildlife 
As mentioned before, biodiversity and wildlife protection is extremely important to The Whites. Their mission is to protect the natural and untouched area that surrounds their enchanting establishment. They have adopted, and educate their guests on, minimal impact hillwalking and birdwatching, the 7 Principles of Leave No Trace and the motto of "We don't pick, we take a photo, see and observe". They encourage the use of non-motorised transport and car pooling, promote the benefits of walking as a sustainable activity and offer a charging station for electric vehicles.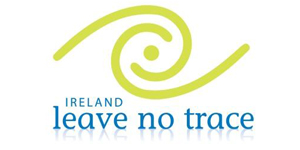 To date, The Whites have planted 11 acres of native oak trees between their land and a nearby bog where they have established a wildlife area. They have installed nest boxes for birds such as Blue Tits, Great Tits and Dippers, so they can flutter around freely. They also have three types of bats in their roof space. 
In keeping with their educational focus, they ensure visitors are informed of the importance of all their sustainable practices and encourage them to follow their best practices. Guests regularly talk about their desire to return to Blackstairs Eco Trails because of the calm and natural ambience that it offers. It truly is a space that is in harmony with nature.
Mary and Robert are committed to sustainability and are providing a working model for other businesses looking to adopt best practices to achieve long-term success. As Mary states, "It is becoming more important to people to go to a place that is sustainable." Mary's claims are born out by research. According to Booking.com , sustainable tourism has become a priority to a growing 72% of travellers. 
Their Gold Ecotourism Certificate with Sustainable Travel Ireland will help them in connecting with these travellers. Between this growing demand, the unique and natural experience of Blackstairs and the warm and safe welcome received by visitors, Blackstairs Eco Trails has experienced tremendous success which has continued despite the challenges posed by the Covid-19 pandemic. In fact, Blackstairs Eco Trails has had back-to-back bookings since they reopened on the 29 June 2020. And they look forward to welcoming you to their small, safe, sustainable space.